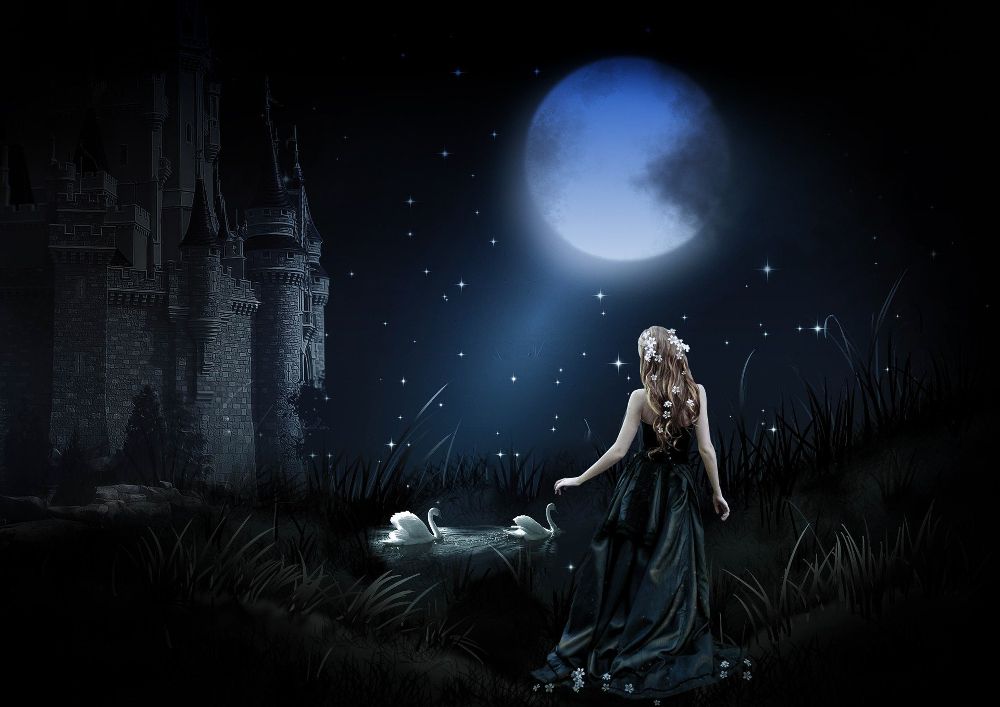 Full Moon Energy – Recharge Your Emotional Wellbeing
The Full Moon in Aquarius on Sunday 22nd August, is believed to be the best Lunar phase of the year. Conjunct with Jupiter, this Full Moons energy will support relationships of all kinds and giving a boost in terms of spiritual growth and commitment.
Once In A Blue Moon
Remember the saying 'once in a blue moon'? Normally there is only one Full Moon in Aquarius each year, however luckily, we are being treated to two and we can bask in the powers and energies of this beautiful second Full Moon. The Full Moon has a positive influence on bringing into focus important relationships and boosting energy and drive within us all.  
A Full Moon with Jupiter is also known for bringing good fortune, romance, success and happiness. It is also important in bringing calm and communication to families, friends and work colleagues, so if there have been tensions in a close environment, you should find life feels more peaceful. 
When it comes to intimate relationships, whatever stage you are at, the Full Moon will really illuminate things. It's an interesting time when finding a long-term partner or if you are looking for greater commitment within your existing relationship and ready to reignite your flame. 
How Can The Full Moon Affect Your Emotional Wellbeing? 
The Moon is known to have a powerful effect on our emotional state, on both positive and negative sides. During the phase of a Full Moon, its impact on our emotions can be especially potent. It's a time when key areas of our lives are illuminated, a time that can be full of high energy and the effects can impact both our psychical and emotional well-being. 
The August Full moon takes place during the final hours of the Leo season, meaning our emotions can be highly charged, particularly if we have been suppressing our true feelings. During this time of awakening, the Sun in Leo forms an opposition against the Moon in Aquarius as the energies of the deep thinking, community-focused Aquarius and the confident and individualistic Leo affect our emotional states to varying degrees.  
With the Full Moon affecting us all in different ways, some people may feel energised by its power, whilst others, particularly empaths may feel emotionally drained and tired. It is therefore important to take some time to ground yourself and bring yourself back into a space of balance and clarity. 
Make time for you: 

On the evening of the Full Moon, show yourself some self-love and self-care by reconnecting with something you love, whether it's cooking your favourite meal, catching up with friends to put the world to rights or even picking up that musical instrument you haven't played for a while.

 

Write down your thoughts

: What's stopping you from manifesting your dreams? Write down what is truly bothering you or blocking you from moving forward with your dreams and goals.

 

Consider where your energy is at:

Leading up to the Full Moon, take some time out from the constant on-the-go cycle of life and bring yourself into a space of calm by practicing meditation or mindfulness. Give yourself a clear space to consider where you are at in life and where your heart truly desires you to be.

 

Declutter your physical space to declutter your mind: 

Before the Full Moon, declutter your physical space. You will be surprised how much this may be blocking your positive energy flows and your mental and emotional space.

 

Take things down a few gears: 

Slow down! Sometimes we are moving so fast that we overexert ourselves and forget to make time to connect with our true emotions and desires.

 

Give thanks:

Show your gratitude to those around you, to the universe, and for what you have been able to achieve no matter how big or small. Importantly don't forget to give thanks to yourself. Sometimes we can be too hard on ourselves, which can be emotionally draining.

 
The Full Moon can be a time of powerful emotional unburdening and profound emotional transformation. Many of us may feel emotionally backed up, therefore it is important to set some time aside to show yourself self-care and self-love, not just leading up to the Full Moon but afterward. 
Harnessing the Power of the Full Moon
The Full moon shines a spotlight on the things we might not normally take notice of, making it the perfect time to re-evaluate your life, your dreams, and your goals and give thanks for what you have already accomplished, rather than starting new projects. 
We've all been through and are still going through some incredibly turbulent times, so the August Full Moon is a great time to release your worries and wave goodbye to the things holding you back from manifesting your dreams. It's a time to reflect on the things which will help you work towards a more positive life path. 
Are you ready to embrace the Full Moon's energy and admit what your heart and soul truly desire? Connect with our gifted UK psychics and astrologers today for empowering and reassuring guidance on love, relationships, family, and career. Call our friendly reception on 0207 553 5020 and discover how your energies can be supported by the power of the Full Moon. https://startemple.com/our-readers/