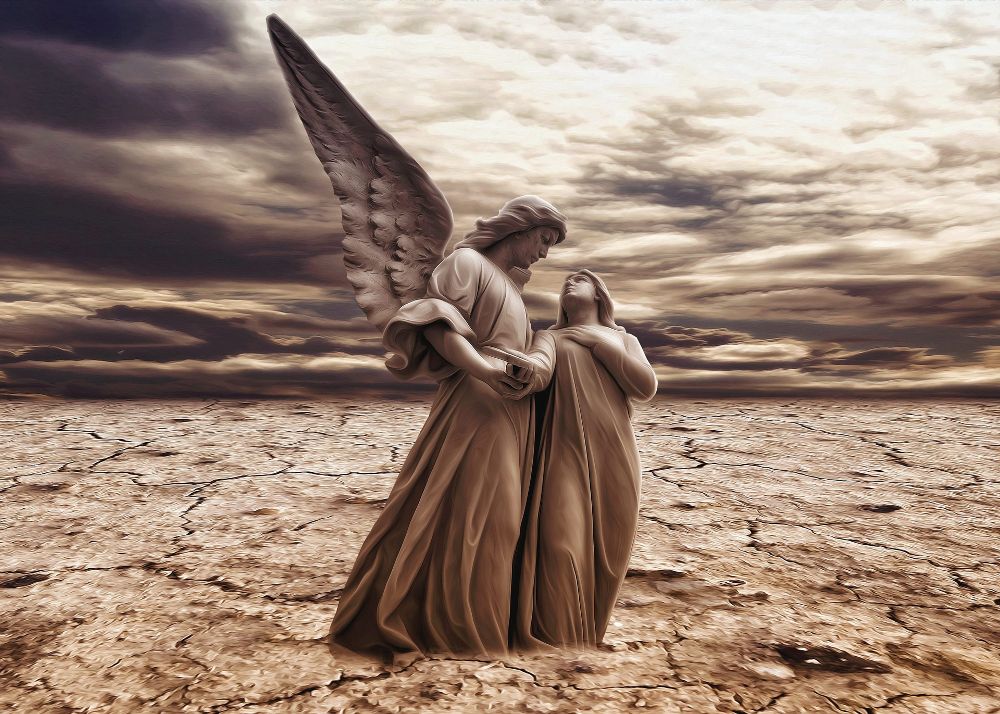 Working with your Angels
Regardless of culture or religion, it is said that Angels are always around us, ready to support and guide us when we need it.
Are Angels watching over us?
Many look to angels for guidance, however others are often so distracted by daily life that they are not able to recognise the signs that come their way. A connection with the Angels can guide you to achieve your true potential in life. All you have to do is ask them for help and give them permission to help you. 
Meeting your Angels
Even if we are unaware of their guidance and protection, Angels come into our lives in a variety of ways, at different points. Some Angels are with us throughout our entire lives, whilst others are by our sides in times of uncertainty or urgent need. There are different ranks and types of Angels, however the ones we are most commonly aware of and feel most connected to are: 
Guardian Angels – 

are connected to us from birth and are devoted to helping us throughout our life journey. They are by our sides unconditionally and ready to help and protect us wherever we are at any time. We can even have more than one!

 

Archangels – 

Watch over all humankind and 

are considered to be

 

very powerful

. Each Archangel has its own special ability. For example, Raphael is known for healing, and Chamuel is for peaceful relationships. Archangels are

very powerful

 and can work with several people at once.

 
Angelic beings are said to be a bridge between spiritual and physical realms, and we can naturally attune ourselves to their frequency through any practices in which we are able to calm our minds and mute our inner voices such as prayer or meditation. 
Connecting with your Angels
Wisdom in all its power leads to further enlightenment, so open up your mind and your heart. If you are ready to welcome in the pure light and high vibrations of your surrounding Angels into your life, then take a deep breath and ask for their guidance, peacefulness, and joy. 
Just ask – 

When you need help or seeking guidance from your Angels, simply say it out loud, in your head or even write a letter to them. The Angels are always waiting to help you, all you have to do is ask.

 

Guidance in your dreams – 

Before you go to sleep at night, ask your Angels a question and ask them to visit you in your dreams. It is believed that it will be easier for your Guardian Angels to communicate with you in your dream state as you are more relaxed. Keep a notebook nearby so you can write down any messages which have come through as soon as you wake up.

 

Angel Cards – 

Angel card readings give you a direct connection with the Angels, focusing on your spiritual path, helping you become more aware of your own spirituality. If you are doing your own Angel Card reading, find a quiet, clear space, set the mood with candles and let go of negativity to help balance the energies in the room. Each card represents an Angel or angelic power, delivering powerful insight and guidance from the Angels into areas of your life where you may need clarity and support.  Make sure your questions are focused, time-sensitive and positive.

 

Meditation – 

Angels communicate on a higher vibration and frequency. Go into the silence, let go of negativity and create a more balanced and harmonious state of mind. By clearing your mind and 

opening up

 your flow of communication, you will be able to raise your vibrations, allowing you to communicate with your Angels on the same frequency and ask for guidance while meditating.

 

Watch out for signs & symbols – 

Repeating numbers, feathers, coins, shapes, butterflies, angelic images…. when we start to acknowledge the subtle 

signs

 the Angels are trying to get through to us, we encourage them to send more, 

opening up

 the communication path between the physical and spiritual realms. If certain signs and symbols appear repeatedly, it may be the angels alerting us that they need to send us a message.

 

Trust your intuition & feelings

 – Whether it is a smell, feeling of embrace, change in temperature or a sound, angels let us know in their own way that they are always around us, showing us unconditional love, compassion and support. 

 
Angels want to communicate with you and help to nourish your dreams. Let them help you overcome obstacles to change and develop your strengths and gifts. Don't forget to thank them too and show your compassion to them as they show to you. 
Are you in need of Angelic guidance?
Feel the gift of inspiration in spirit and let it give rise to fresh starts and new beginnings. Let go of anything that doesn't serve your higher purpose. If you are ready to draw on the pure spiritual power of the Angels and reconnect with your inner self, book a reading with our gifted Angel Card Readers and gain empowering and enlightening insight into how you can reach your true potential and become the person you are supposed to be.