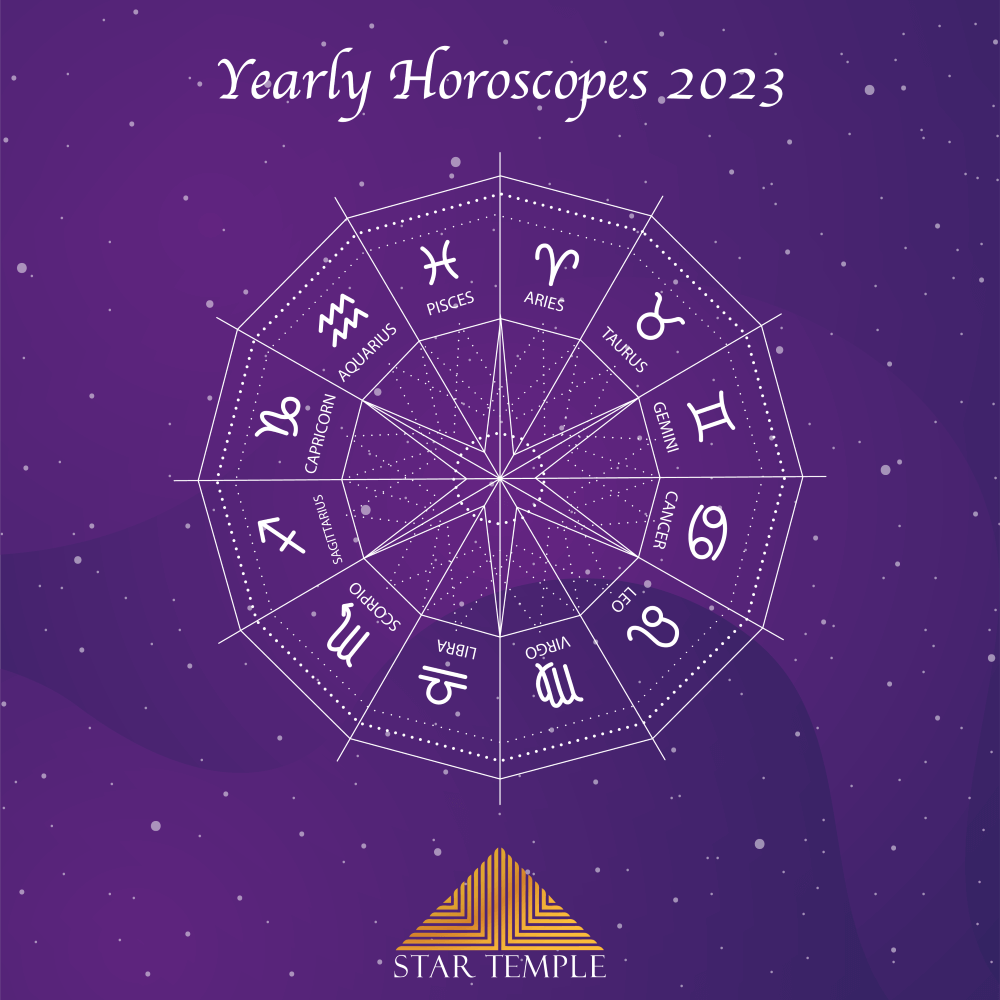 Yearly Horoscopes 2023: Predictions For All Zodiac Signs
Based on Western Astrology we're off to a rocky start and you may want to fasten your seat belts for an intense start to the year. Luckily there are a few moments of respite when you can take a deep breath, take a step back, and assess your position in the world. Be warned however that honesty is the best policy in 2023. You will be caught out if you try and pull the wool over another's eyes! Below we have given yearly Horoscope predictions for all zodiacs. Let's take a look at what's in store for each of the zodiac signs for 2023.
Aries (Mar 20 – Apr 19)
This is no time to hide in the shadows. You're being called to display special talents to the world and excel at what you do best. Areas of your career that no longer work fall away. Relationships deepen as you discover the art of sincere and open communication.
Taurus (Apr 20 – May 20)
There's an energy of out with the old and in with the new as you clear away the clutter of the past. If you've had a yearning for travel then this is the year you'll pack a suitcase and seek out new destinations. Something you started last year is finally going to bear fruit.
Gemini (May 21 – Jun 20)
Energy levels increase and you're able to achieve important goals with ease. Take time out to revise that budget that you've neglected for some time. An optimistic outlook on life will make it easier for you to traverse through any challenges that arise.
Cancer (Jun 21 – Jul 22)
Putting down roots and establishing inner stability is the order of the day for 2023. Finances improve as you discover creative ways of making extra money. Thoughts patterns and beliefs that no longer serve you will be replaced by an empowered outlook on life.
Leo (Jul 23 – Aug 22)
As your contact base expands globally, you may be required to travel far and wide for work. A reunion with old friends offers the chance to reminisce about the good old days. However, maintaining a focus that resides too much in the past prevents you from enjoying the magic of the present moment.
Virgo (Aug 23 – Sep 22)
Issues around employment that were put on ice have now been given the green light and you can finally pursue those long-awaited career goals. Your social calendar has already started filling up, Virgo. Ensure that you all yourself some ME time too!
Libra (Sep 23 – Oct 22)
Personal relationships take the front row and you're set on making things work with the one that has captured your heart. This is also a time of repairing relationships with estranged family members. The bonds you form in 2023 will last for years to come.
Scorpio (Oct 23 – Nov 21)
Communication may be erratic and it will stand you in good stead to double-check everything that you read or hear. It will save you a lot of confusion in the long run, Scorpio. You've discovered a new way of eliminating your outstanding debts. Congratulations!
Sagittarius (Nov 22 – Dec 21)
A good sense of humour will make all the difference when life gets too serious and tedious. New opportunities in work will have a positive impact on your personal well-being. Now you can find a healthy balance between work and play.
Capricorn (Dec 22 – Jan 20)
A new sense of freedom prevails as you manage to release unhealthy chains of the past. You'll also discover that your perspective on life broadens and certain issues don't hold that much importance any more. Allow your heightened intuitive skills to guide you through the year.
Aquarius (Jan 21 – Feb 18)
Strategies for coping with challenges can be found within and you'll be surprised at the strength and resilience that you have on hand. It may feel as though you're lacking the support that you need from loved ones, but if you look around, you'll notice that they have your back when you require it.
Pisces (Feb 19 – Mar 19)
Don't deny yourself some much-needed time out if you feel that the world around you has become a bit too crazy! Time for reflection provides new ways for directing the future and helps you to reassess the goals that you made in the past. Change is imminent!
2023 is a unique year full of change and transformation for most zodiac signs. These Yearly Horoscopes 2023 predictions can cover various areas of life such as love, career, and health. If you would like to know more about yourself, simply talk to our top UK astrologers now. You can also order your personalised Horoscope chart today.